Creating a More Constructive Culture
A Special Hands-on Culture Changing Process for
Individuals and Organizations:
"Designed to Create More Constructive Cultures"
Q: Why Do We Need More Constructive Cultures?
A: Culture Drives Performance!
As an Organization: Business performance (net income), as measured by
Kotter & Heskett:
Study of 207 firms over an eleven year period as reported in their book
Corporate Culture and Performance
Defensive Culture Constructive Culture
Revenue 166% 682%
Employment 36% 282%
Stock Prices 74% 901%
Net Income 1% 756%
As an Individual: Constructive cultures help us to perform to our potential…Think of sports teams that have winning cultures…where individual players excel and play to a higher level…
What is Organizational Culture? How do we make it more Constructive?
The culture of an organization is the combined Beliefs, Attitudes, Habits, Expectations, and Comfort Zones of all the Individual Team Members…


When individuals change their own beliefs, attitudes, habits, expectations, and comfort zones, then they are the key, to facilitating a constructive culture change, which will help each individual to perform to their potential, as shown in the diagrams above and below.
"…The single biggest advantage a company has is their culture…"
According to Patrick Lencioni, author of: The Five Dysfunctions of a Team
And his new book:
The Advantage: Why Organizational Health Trumps Everything Else In Business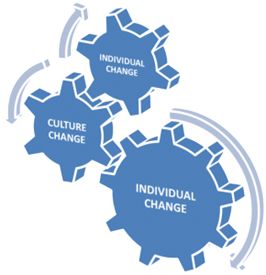 Attend our Process to learn concepts and techniques, to make changes in your personal and/or organizational life, that have been used by organizations including the following for over 30 years:
• Over 65% of the Fortune 500
• Every branch of the US Military
• Organizations like Boeing, Nordstrom, Caterpillar, Nexteer Automotive, W.W. Granger, and the Department of Labor
Who should attend?
· Anyone who leads a project, team, organization, or community
· Leaders who want to be significantly more effective, helping their team perform and utilize even more of their potential.
"If you change belief, you change performance." — Gordon Graham